Data Cabling
Structured Cabling - Diagnosis, Installation & Maintenance
At Coastal Contracting LLC, we perform the following professional services:
• Install, test and certify Cat 5e, Cat 6, 6A cabling, Fiber optics, coaxial, and other low voltage media to TIA/EIA standards.
• Our expert technicians diagnose, identify and repair network cabling, telephone lines, and POTS.
• Point of Sale installation. Experience with KDS restaurant ordering system and others.
• Backup payment processing system sales and installation
• Clean up existing communication closets, install new patch cords, cable management, and uninterrupted power supplies.
• Experience installing POS systems, setting up drive-thru systems, ticketing and ordering displays for restaurants.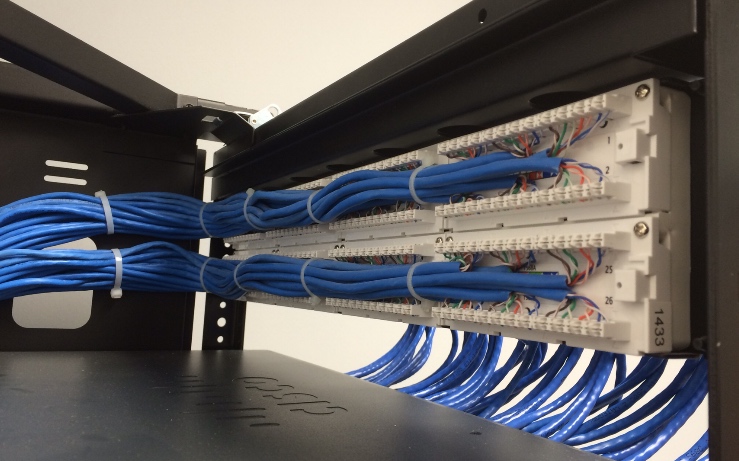 We offer two types of installation models for our clients:
Need it Now or Future Expansion.
The two models differ in the parts, equipment and future expansion needs that allow for additions and upgrades to be performed without the need for costly changes to parts and equipment.
-The Need it Now model will include only the required voice and data parts/equipment to perform the function needed. Typically mount equipment directly to the wall, patch panel will match needed voice/data drops.    
-In contrast, the Future Expansion model will offer voice and data parts and equipment that will assist when future upgrades or expansion are predicted for your telecommunication system. The Future Expansion model allows for additional upgrades with minimal cost down the road. We install backboard on the wall first, then add the E/Z swing out wall mount rack or floor mount rack. The racks will house: patch panels, switch, router, shelving, uninterrupted power supply UPS and other equipment. A wall mounted rack is available in various sizes and provides the space for equipment now and in the future.
Our team will assist by asking the right questions to provide the parts/equipment and model that makes sense for their business need.
We make your transition run smoothly by managing the process from start to finish. We can coordinate with IT Staff to ensure that projects are completed to your schedule.